Working from anywhere — home, hotel, vacation property, your Club — is a trend that looks as though it's here to stay. Why not ensure you have the best tools to get the job done? Here are eight smart updates to consider in 2023.
1. The Reliable Printer
Sure, home printers have been around, like, forever. That doesn't mean that every single one of us hasn't experienced the sheer agony of running out of printer ink at the worst possible time, having to resort to printing a work document in, say, red ink instead of black (or is that just me?). It's time to upgrade to the tank-system printer, with cartridge-free and plentiful ink that won't let you down over and over again. Better still, a newer-model printer can offer lightning-fast printing speeds, automatic double-sided printing, Wi-Fi and Bluetooth connectivity and multipage scanning feeds. Our pick: the Epson EcoTank ET 3850, with a fast black-and-white (15.5 ppm) print speed and close to two years' worth of ink straight out of the box. $399
2. The Next-Gen Streaming Camera
You're supposed to be listening to Jim from Accounting as he gives his update on the Zoom call, but instead you're looking at your own image on the screen, wondering how you can discreetly find a better angle. Yes, video calls have made life better by enabling us to work in sweatpants and slippers, but the awful computer-camera struggle is real. This year, go 4K and watch your wrinkles troubles melt away. The HP 965 4K Streaming Webcam provides 4K resolution, clear video with AI face framing and autofocus, as well as a lowlight adjustment feature and dual microphones. $199
3. The Standing Desk
It's two weeks into the new year. Have you already blown all your resolutions? Don't fret: A standing desk can single-handedly help you stay on track with many of your New Year's resolutions: It burns more calories than if you're sitting at your desk; it can help improve your mood and energy levels; and it may even increase your productivity. Isn't it time, then, that you take a stand? While many standing and adjustable-height desks sacrifice looks for functionality, the Arhaus Industrial Crank Desk is a handsome, high-style adjustable desk that will look right at home in your study. $3,299
4. The Ergonomic Chair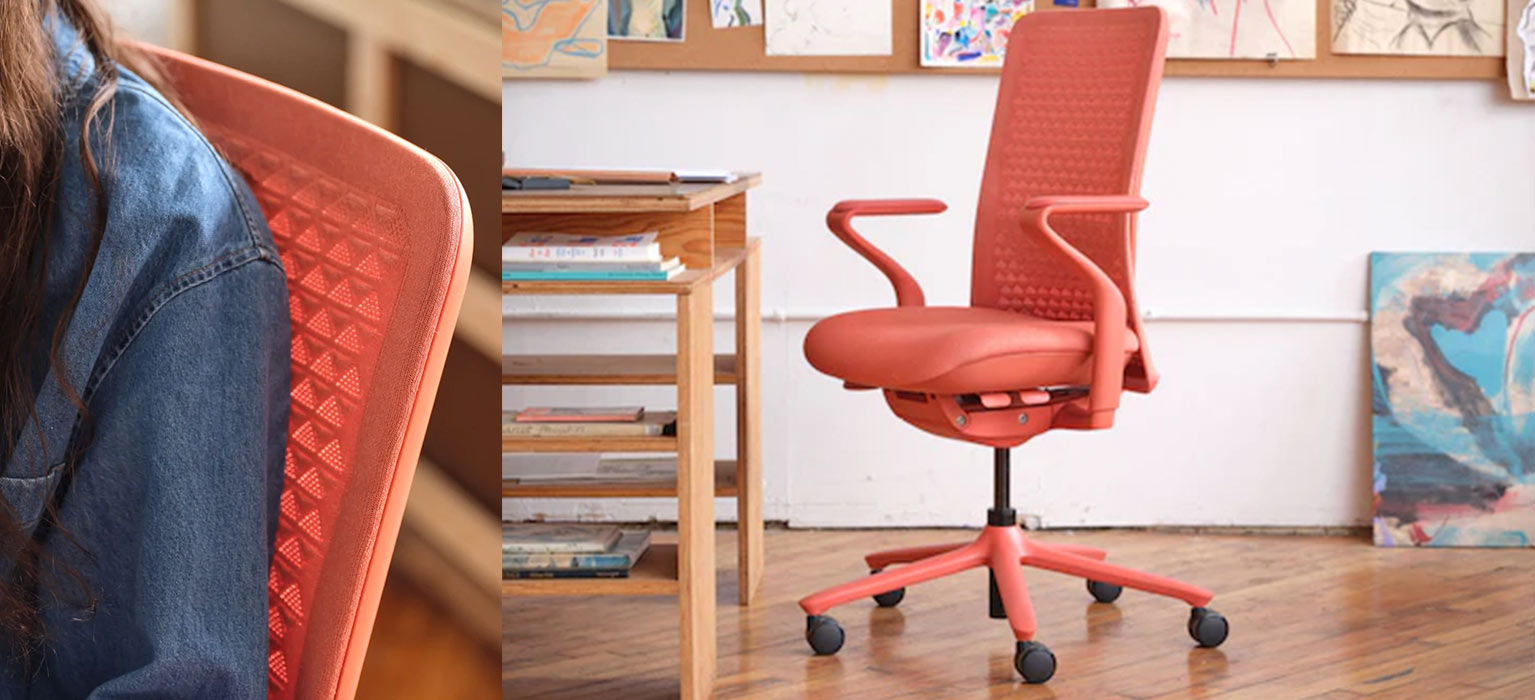 Yes, we realize we just presented a standing desk to keep you on your feet. But let's be real: You're going to need to crank the desk down to sitting mode a few hours a day. And when you do, be sure to plant yourself in a chair that keeps your body aligned; spending long hours seated at your desk can lead to discomfort and even health issues such as back pain. A quality, ergonomically designed chair can help you stay comfortable and healthy while you work, with adjustable backrests, armrests and lumbar support to help reduce stress on your body. Bonus points, too, for the ergonomic chair that isn't flat-out ugly, like the gangly, faux-leather ergonomic chairs of yesterday. That's why we're keen on the colorful Verve chair from Branch, which has adjustable spine support and a 3D knit back. $599
5. The Wi-Fi Boost
When your at-home IT department consists of your teenager and … well, that's it, you had better have some fast and reliable connectivity. (Especially because your IT department has been known to suck up precious internet speed with their constant gaming.) If you've already upgraded your internet plan through your provider to no avail, perhaps it's time to invest in a mesh network. Mesh Wi-Fi router systems help get rid of the internet dead spots in your home with plug-in devices that strengthen Wi-Fi signals. Amazon's eero system offers easy and affordable ways to get a strong signal throughout the house. From $89
6. The Chic Desk Lamp
Back when the pandemic started and everyone was at home with their cameras on for meetings, the accessory du jour was a cute kid in the background. It made us all look so real — and indeed, we were all in it together, just trying to get by. Those days are over. It's time to look serious instead of like you're working from home to save on childcare costs. An up-to-date desktop with a few chic accessories (that don't ask for juice boxes and snacks) ought to do the trick. The bronze, mushroom-shape Hastings lamp from West Elm elevates any desk (not literally, of course — for that, check out Item #3) and communicates that you may be all business but you've also got great taste. From $249
7. The Pared-Down Case
The days of lugging a backbreaking "carry all" are mercifully behind us. With all your work tucked nicely into your laptop, all you really need is a slim-but-stylish way to navigate the back-and-forth of the hybrid work world. Our pick is Shinola's Slim Traveler Brief. It's the perfect size for packing up your laptop and just a few extras, such as your phone and your keys. The rich, rugged American leather is from Seidel Tanning Corp. in Milwaukee, while the craftsmanship and styling comes straight out of Detroit. $795
8. The Get-More-Done App
A 20-minute conversation at the proverbial water cooler is no longer your biggest distraction. Instead, it's the sea of social media and messaging updates you inadvertently get sucked into every time you open your computer. This year, you may want to consider installing a productivity app to keep you on task. Serene lets you block digital distractions — such as email, message notifications and social media sites — for designated blocks of time. It also enables you to set a daily goal and then break that goal down into sessions throughout the day which you'll be reminded to complete — distraction free. Plus, productivity tracking and weekly reports give you insight into your work habits. The app is just $4 per month.
---
Enjoyed this? You might also enjoy these articles from the winter edition of Invited magazine:
A perfect itinerary for exploring all that this culture- and history-rich Texas city has to offer