Craving a cozier cruise? While larger ships may offer more bells and whistles, such as Broadway-caliber shows, race car tracks and pickleball courts, the intimate and exclusive nature of small-ship cruising is an alluring alternative. Suites are roomy, and they have balconies and include butler service. Plus, you'll enjoy exceptional fine dining, high-quality expeditions and features such as a water platform from which you can directly access the ocean for swimming, snorkeling and kayaking.
You'll likely be the only travelers in the city when you get off the ship to explore, so you won't be sightseeing with the masses.
Small ships can also navigate into small places. Access to these tinier, authentic towns and villages is the heart of any cruise destination. As a result, you'll likely be the only travelers in the city when you get off the ship to explore, so you won't be sightseeing with the masses.
If you're looking to book a small-ship cruise, consider any of the following premium voyages for your next vacation at sea.
EMERALD AZZURRA
Representative of a new wave of yacht-style cruising, the 100-passenger Emerald Azzurra has been custom designed to cruise the waters of the Adriatic Coast, the Red Sea and the Mediterranean in an intimate, boutique setting.
A handsome ship, she feels shiny and new. In part, that has to do with all of the chrome and mirrors that are part of the ship's cutting-edge interior design. Gorgeous, oversize artwork, hand-picked by the owner's wife, lines the hallways of the public spaces. With five-star service, fabulous food and fantastic itineraries, it is no surprise that she attracts a sophisticated international clientele, mainly from the United States, Great Britain, Australia and Canada.
Life On Board
Yacht-style cruising on the Azzurra allows for relaxed luxury. Port calls are longer. A full day in town means a less-hurried pace and allows you to enjoy the day your way. There is plenty of time to get off the ship, take a tour or walk around on your own, then come back for lunch, go out or read on the deck. There is even time for a late-afternoon Pilates class before cocktails and dinner. You never have to pick or choose or feel like you missed something.
Although fitness isn't a focus, there are ample opportunities to stay in shape. An early-morning yoga class on the deck for gentle stretches and breathing is the most relaxing way to start the day. In addition, there is a fitness room with Technogym equipment. After all that, you can sit in the infrared sauna or book a massage at the spa.
In the true style of a luxury yacht, the Azzurra features a marina platform that offers direct access to the ocean for swimming. Guests have complimentary use of water toys such as SEABOBs, standup paddleboards and kayaks. There is a large, heated infinity pool with massive, couchlike loungers and an oversize Jacuzzi on the top level adjacent to the Sky Bar.
Although there is no casino or theater, guests will love distinctive onboard experiences, such as the guitar vocalist who plays acoustic versions of contemporary music on the deck and in the lounge nightly.
Staterooms
This game-changing vessel has just 50 deluxe suites and staterooms ranging in size from 187 to 1,184 square feet, most of which include an outdoor balcony. Even at the lowest category level, the sleek suites feel spacious. They are outfitted with upscale amenities such as custom-made Missoni robes and Nespresso machines. In addition, you can count on the most heavenly night's sleep in the ultra-deluxe beds with cushiony mattress toppers, crisp cotton sheets and supportive pillows. Upgrade to the Yacht or Owner's suites if you desire more private outdoor space. These suites have oversize terraces, couches, sun loungers and extra luxury amenities.
Dining
La Cucina, the Italian-themed main restaurant with indoor and outdoor seating, is open for breakfast, lunch and dinner. There is no requirement to dine with other passengers. Every meal is something to look forward to, with cuisine representing different ethnicities and cultures and local dishes reflecting the port stops. The Aqua Café by the pool serves a continental breakfast and lunch items such as burgers, flatbreads, salads and ice cream until 5 p.m.
Need to Know
Your cruise fare includes airport transfers, gratuities, Wi-Fi, meals on board, wine, beer and soft drinks with lunch and dinner. You can also upgrade to a more robust drink package that includes premium drinks. There is a complimentary self-serve laundry preloaded with detergent, a nice perk that allows you to pack less if you desire.
Knowledgeable local guides join guests daily for on-shore exploration. All Included Tours, Emerald Plus and Emerald Active tours are free. However, you can upgrade to a DiscoverMORE tour, which has opportunities to visit a local market with the chef, go wine tasting or go kayaking.
---
PONANT LE BOUGAINVILLE:
Booked with Abercrombie & Kent
Each fall, luxury tour company Abercrombie & Kent charters PONANT's sophisticated expedition yacht, Le Bougainville, for a 12-day cruise around Italy. The voyage begins with two days on land at a five-star hotel in the heart of Florence, then visits most of Italy's navigable coast by cruise. A&K takes special care in the design of its itineraries, excursions and inclusions to offer the most comprehensive Italian experience. In addition, you'll cruise mostly by night, so you have full days in port to experience the destinations.
Although Le Bougainville holds 184 guests, when A&K charters her, they limit the capacity to just 148 passengers, which means additional personal space and more attentive service.
A&K's award-winning Expedition Team comprises scientists, marine biologists, ornithologists, historians, geologists and native cultural experts who accompany guests on every part of the journey. The all-inclusive shore expeditions have been designed to immerse guests in everything from art and architecture to mythology, gastronomy, gardens and nature. They don't just scratch the surface; they enable you to get to know the locals and understand their history and culture.
A&K voyages attract guests who are lifelong learners, which is why the talks and lectures on board are always full. This group of discerning intellectuals values the care and attention paid to them by the staff and appreciates being well looked after throughout their voyage.
Life On Board
The A&K enrichment program includes multiple lectures and daily excursion talks in the theater. When you are not onshore exploring, relax at the Panoramic Lounge at the front of the ship, which offers phenomenal views and features a small bar and library.
Book a treatment at the spa, where SOTHYS™ Paris has trained the staff. A KÉRASTASE / L'Oréal Paris salon also offers hair and nail care. Also, guests are always welcome to use the sauna whether or not they have a treatment booked. There is a small fitness room with three treadmills and two bikes, and floor-to-ceiling windows for a workout with a view. Take a dip in the infinity pool or do some laps. It has a countercurrent system that can be turned on for resistance swimming. A water platform also allows for swimming in the sea or using kayaks and paddleboards.
A signing duo performs in the Main Lounge in the afternoons and after dinner. There are occasionally trivia or game nights as well.
Staterooms
This gorgeous expedition-class yacht has 92 cabins and suites ranging in size from 204 to 484 square feet. Designed by French interior architect and designer Jean-Philippe Nuel, the cozy-yet-comfortable suites are decorated in a minimalist style using muted shades of cream, brown and gray. All cabins have balconies with just enough space for two chairs and a coffee table. It is the perfect place for your morning coffee or reading a book.
Cabin amenities include a Nespresso machine, an electric tea kettle, robes, slippers, a hair dryer, Hermes toiletries, a fully stocked complimentary minifridge, a Bluetooth wireless speaker and a flat-screen satellite TV with an excellent selection of free movies on demand. There is even a pillow menu to help ensure a good night's sleep.
Dining
Ponant's culinary program focuses on international cuisine and often uses ingredients from the places you visit. The main restaurant, Le Nautilus, offers open indoor and outdoor seating. They serve an à la carte menu at breakfast and lunch, while dinner is a four-course affair. The more casual Grill adjacent to the pool serves al fresco lunch and dinner. Their buffet has a rotating selection of soups, a fabulous salad bar, charbroiled mains and several desserts. From early-riser coffee to breakfast, lunch, afternoon tea, pastries and dinner, it is not possible to be hungry, But if you are, 24-hour room service is also available.
After dinner, pop below deck for a cocktail at the Blue-Eye bar. This multisensorial underwater lounge with a '60s James Bond vibe has purple mood lighting, asymmetrical seating and windows that look out to the sea.
Although the dress in the dining venues is relatively casual, there are two formal nights: the Captain's Welcome and the Gala dinner.
Need to Know
All excursions are included in your trip. At each stop, you have up to four excursions to choose from. Tours are always conducted in small groups and led by local expert guides who have a deep knowledge of their city. A&K team members accompany guests at all times and are responsible for everything down to the smallest detail. One day, you may visit the Summer Palace of the Pope, where food lovers can take a cooking class or go truffle hunting in Tuscany. In addition, you can take a tour of Vatican City or a guided walking tour of Lucca.
Except for premium alcohol, all drinks in restaurants, bars and in your minibars are included. Additionally, Wi-Fi and all gratuities are included in the cruise price, from on-shore guides to ship staff and airport transfers. Also, guests can send up to eight items each to be laundered free of charge during the cruise.
And if 12 days isn't enough, there is always an option to add on a Lake Como and Milan post-tour extension.
---
SEABOURN OVATION
Small luxury cruise ships come in all shapes and sizes. At 690 feet long and 92 feet wide, the Seabourn Ovation is larger than most. At first glance, you might mistake her for a mid-size ship. However, she only carries 600 passengers, which solidly keeps her in the small-ship category.
So why does she feel so big? A considerable amount of space is dedicated to the Ovation's public areas. There are five restaurants, seven bars, six hot tubs and two pools. Additionally, there is a casino, a card room, a full-service spa, a fitness center and a grand salon. The ship never feels crowded because there are ample areas for guests to spread out.
Despite the Ovation's size, Seabourn still manages to deliver an intimate small-ship sailing experience with personalized service. By partnering with world-renowned chef Thomas Keller and wellness icon Dr. Andrew Weil, Seabourn is committed to creating the most luxurious cruising experience for its guests.
Life On Board
Ovation's upscale, sophisticated atmosphere caters to affluent passengers seeking an effortless vacation experience. Most guests start the day at Seabourn Square with a specialty coffee drink prepared by attentive baristas who use fresh beans that have been roasted on board. The concierge team is also located there and available to assist with any request.
Spend the day sunbathing by one of the pools. The more lively one in the center of the ship is where passengers happily socialize, share a cocktail and occasionally listen to live music. The second pool is tucked away aft on the vessel. With plenty of shade and comfortable seating, it feels more exclusive and attracts guests who like to read and relax in peace.
The spa and fitness facility is worth a visit (or two). Dedicated to caring for the whole body, the Mindful Living Program, created with Dr. Andrew Weil, is the first program of its kind at sea. Offerings include daily meditation, yoga, acupuncture, body massages, facials, detox and cleansing treatments. An oceanview gym with cutting-edge equipment, a motion studio and a full-service salon round out the center's offerings.
As if the Ovation isn't luxurious enough, reserve a day in The Retreat, a private enclave on the 12th deck. This serene sanctuary has 15 cabanas and is protected from the wind and sun with a large canopy. Each cabana is outfitted with seating space and loungers, a flat-screen TV and Bluetooth headphones, a stocked refrigerator, plush towels and sunscreen. Dedicated Retreat butlers are on hand to bring you a glass of champagne at the whirlpool or serve you lunch from the healthy spa menu.
Staterooms
Ovation's 300 oceanfront suites come with a stateroom host and an attendant to pamper you while providing unobtrusive service. At almost 300 square feet, even the lowest-class Veranda Suites feel spacious with sitting areas and deep balconies. All suites have a walk-in closet, plenty of storage, a dressing table and a marble bathroom with a double vanity, shower and full-size tub. If you require larger accommodations, consider booking one of the Owner's Suites, which have expansive views from the oversize terrace, a guest bathroom, dining space for four and two flat-screen TVs.
Dining
There are five restaurants on the Ovation. Daily menus are posted on the Seabourn app to help you decide where to dine. Be sure to pack fancy evening wear, as Seabourn guests dress more formally than on other small-ship cruises. Standard evening attire calls for elegant casual clothing; plus, there is one formal night when tuxedos and evening gowns are considered fashionable.
The Restaurant, open for all meals, is the main dining room and has the most extensive dinner menu. The Colonnade is a casual indoor/outdoor dining venue with sumptuous buffets for breakfast and lunch and an a la carte menu in the evening. Dine poolside during the day at The Patio, which converts to the candlelit Earth & Ocean in the evening and serves a rotating menu of eclectic Mediterranean dishes.
Although there is no extra charge to eat at The Grill by Thomas Keller, reservations are required. A nod to 1960s steakhouses, leather banquettes and black-and-white photos line the wall of this dark, wood-paneled space. Guests are treated to impeccable service and a menu of classic dishes such as shrimp cocktail, wedge salads, lobster thermidor and New York strip steak complimented by an expansive list of premium wines ($) that includes several Brunells and Bordeaux.
Need to Know
Almost everything on a Seabourn cruise is all-inclusive, from premium spirits, champagne, wine, beer and soda to your fully stocked in-suite minibar. Tipping is neither required nor expected. High-speed Wi-Fi is also included, although if you want to stream video, you can pay to upgrade the service. A free self-service launderette should factor into how much you need to pack. Although Seabourn is billed as all-inclusive, shore excursions are not included, nor are gratuities for local tour guides.
Throughout your cruise, you may have the opportunity to experience complimentary signature events such as Caviar in the Surf during beach barbecues ashore or use of the ship's marina with complimentary water sports.
---
CELEBRITY BEYOND: The Retreat
If you can't fathom giving up all of the attractions and conveniences that big ships offer, consider a cruise that provides a ship-within-a-ship experience. Several megaships such as Celebrity Beyond now offer exclusive, luxurious areas with private restaurants, personal butlers, lounges and pools.
It is true that with 1,646 staterooms, Celebrity Beyond is classified as a large cruise ship. However, The Retreat is their ace in the hole. Unrivaled in the industry, The Retreat is a "resort within a resort" designed to evoke the same intimate feel of a small luxury cruise ship with five-star services and amenities. And it is not just the Retreat that makes The Beyond worthy of a second look — every element of this brand-new, modern ship evokes relaxed luxury travel.
Staying in The Retreat offers the best of both cruising worlds. Passengers can still venture out into the main areas of the ship to enjoy the entertainment, multiple restaurants, bars, casino and shopping areas, then head back to their private sanctuary to escape the crowds.
Life in the Retreat
Key-card access grants a maximum of 500 guests access to The Retreat, an area that spans three decks of the Beyond. Created by multi-award-winning British designer Kelly Hoppen, the boldly decorated Sundeck offers two levels of prime outdoor relaxation. It has a private pool, a hot tub, a bar and a dedicated staff to bring you cocktails, sunscreen or whatever your heart desires.
Much like an airport club, The Lounge has been designed as a respite away from everything. Stop by anytime for a bite to eat, a drink or just to unwind. The Retreat concierge is also located in the lounge and is available to make any arrangements you might need.
Luminae, The Retreat's private restaurant, serves multicultural dishes reflective of the menu options served at Daniel Boulud's New York restaurant Boulud Sud. Beautifully designed and located at the front of the ship, the restaurant's panoramic views from the floor-to-ceiling windows are unparalleled. Luminae is open for breakfast, lunch and dinner. However, lunch is only available on embarkation day and days at sea.
Staterooms
Designed by some of the world's leading architects and interior designers, Retreat guests stay in the most stunning accommodations on the ship. At 2,500 square feet, the two-bedroom, two-bathroom Iconic Suite has dramatic floor-to-ceiling windows, an enormous terrace with a hot tub and double daybed, a luxury king-size Cashmere Mattress bed and the option to have an in-room Peloton.
A first of their kind, the two-story Edge Villas have one bedroom, two full baths and a private plunge pool. Reminiscent of a private oceanfront villa, these suites have direct access to the Retreat Sundeck.
Dining
Should you venture outside The Retreat to dine, you will have 32 different food and beverage experiences to choose from, including eight specialty restaurants. The most highly coveted table is at Le Voyage, an intimate, upscale specialty restaurant with distinctively Parisian design influences created by world-renowned, Michelin-starred chef Daniel Boulud. With an award-winning wine list, globally inspired dishes and excellent service, you will quickly forget that you are having dinner on a huge cruise ship.
Need to Know
The Retreat experience includes dedicated butler service, premium drinks, premium Wi-Fi, tips and onboard credit to use however you choose. Along with dining at Luminae, lunch and dinner at all specialty restaurants are included, along with preferred seating. In addition to a dedicated concierge, guests receive priority check-in and departure, which is essential when cruising with more than 3,000 passengers.
---
Advertising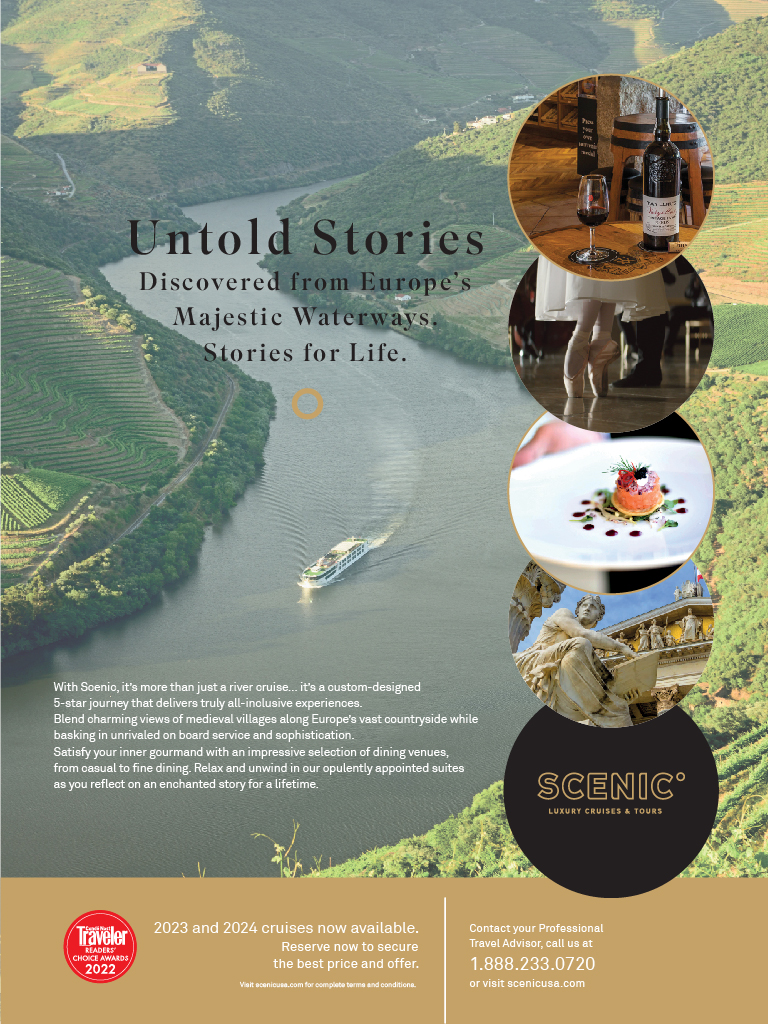 ---
Enjoyed this? You might also enjoy these articles from the winter edition of Invited magazine:
A golfing getaway to Northern Ireland might be punctuated by occasional windy or rainy days, but those who make the journey are certain to feel lucky no matter the weather