The Ultimate Escape
Four Seasons Punta Mita
Very few resorts get five stars in every category: location, service, amenities and extras. But Four Seasons Resort Punta Mita is one of those places. Easily accessible (Punta Mita is 45 minutes north of Puerto Vallarta by car), the exclusive resort is the pinnacle of luxury, with private beaches, amenities and activities aplenty, as well as the exemplary service for which the Four Seasons brand is known.
Spend your day lounging poolside at the infinity-edge, ocean-view Nuna pool or, if the kiddos insist, at the lazy river, while attentive staff take care of your every need. Cool off in the ocean or take a complimentary paddleboard or kayak out for exploration. Rejuvenate in the spa with a signature treatment (try the tequila stone treatment!) before napping in one of the inviting hammock beds that line the beach. Let the kids find their own inner peace through the resort's innovative KidsWell program, where they'll learn about mindfulness through such activities as bubble-blowing breathwork, gratitude journaling, guided meditation and rainbow-relaxation watercolor classes. The food at the resort's 10 restaurants is delicious, so you won't need to leave the property (though if you do, opt for a golf cart and pop into the colorful town of Punta Mita).
The casita rooms are comfortable and modern, but if you're going with your family or a large group, it's worth considering one of their expansive beachfront homes. A mix of traditional Mexican and contemporary styles, the Coral, Arena and Marea homes each have their own private pools and offer unique features such as a movie theater, a spa and a fitness room in the Coral. Regardless of which accommodations you choose, you won't soon want to depart. Yes, the Four Seasons Punta Mita is that spectacular.
---
The Modern Carry-All
Troubador Ki backpack
The tech industry may have made backpacks cool, but London-based Troubadour has made them stylish enough to tote to the office no matter what industry you're in. Our current obsession: the Ki backpack. With a sleek silhouette and plenty of well-constructed pockets for all your workaday accoutrement, you'll look like you're ready for the boardroom and not the classroom. Plus, it's ergonomically designed — so you can lug your laptop without needing a post-commute adjustment. $245
---
A Sip of the Past
Bardstown Bourbon Company
With 11 distilleries within a short drive from its town square,
Bardstown, Kentucky, is the Bourbon Capital of the World. But if you only have time to take in one distillery, make it Bardstown Bourbon Company. Set on 100 acres of active farmland, this American whiskey and bourbon destination experience features a state-of-the-art distillery, a vintage whiskey library and a unique educational experience. The "Taste of Whiskey History" tasting takes place in the impressive library, which showcases more than 400 bourbons and ryes dating back to 1892 (so yes, you'll be sampling some of the rarest bourbons in the world). End your visit with a meal at The Kitchen & Bar at Bardstown Bourbon Company, which offers expertly crafted cocktails and superb food in a hip, modern setting. (Hint: Try the bourbon slushie!)
---
Truly Functional Clothes
Pyvot
Weighted blankets are a thing, in case you hadn't heard.
Turns out, blanketing yourself with a little extra heft can help in many ways, including calming you down and helping to relieve stress and anxiety. But it's not 2020 anymore, so we can't exactly go around wearing blankets. Enter Pyvot, an accessories and apparel company bringing the weighted-blanket technology to clothing and accessories. These wearable weighted goods (each adds between 4.5 to 7.5 pounds) bring the added benefit of helping you improve muscle mass by amplifying your everyday activities. The popular and stylish vests for both men and women (Dash for men and Spark for women, each $245) will encourage you to tighten your core and practice good posture as you wear them.
---
A Step in the Right Direction
On Cloudprime Shoes
Swiss company On has had us walking on clouds for the past few years with their stylish and high-performance athletic shoes.
Now, the company is looking to make the planet as happy as it has made our feet. Their new Cloudprime shoes utilize the groundbreaking CleanCloud, a foam that uses carbon emissions as a raw material for the shoe's midsole. The innovative technology captures carbon emissions before they are released into the atmosphere. The captured emissions enter a fermentation process which results in an ethanol that's dehydrated and polymerized to become foam pellets used in the shoes. While the Cloudprime isn't available to the public quite yet, you can still step out in their ever-popular Cloud 5 model, in enough colors to suit anyone's taste (though we're partial to the Cloud/White combo). Cloud 5, $139.99
---
---
Enjoyed this? You might also enjoy these articles from the fall edition of Invited magazine: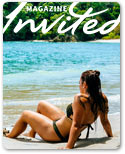 Finding pura vida in this tropical paradise