Spanning 19,700 square miles — roughly the size of West Virginia — Costa Rica is more than 55% protected rainforest, supporting some half a million species of plants, birds, mammals, amphibians, reptiles, fish and insects.
While the numbers are nothing short of astounding, it is individual sightings of and encounters with wildlife — squirrel monkeys, three-toed sloths, white-nosed coati, scarlet macaws, toucans and the elusive Resplendent quetzal — that leave travelers, including my own family, truly in awe of the country's biodiversity. Combine this with the country's motto of happiness and a simple way of life, Pura Vida, and you've found paradise.
Combine this with the country's motto of happiness and a simple way of life, pura vida, and you've found paradise.
One of the first things both our 11-year-old daughter and 7-year-old son noticed during our recent family trip to Costa Rica was how green everything was. Indeed, the lush, tropical landscape, with palm trees soaring toward the sky and colorful bromeliad plants with their fuchsia and golden-yellow bracts, feels like the country's ubiquitous wallpaper.
It's fitting, then, that conservation is hugely important to the Costa Rican government and to locals. Established in 1998, the National Conservation Areas System (SINAC) protects 31 national parks (among them: Manuel Antonio; Tortuguero, known as a sanctuary for green sea turtles; and Corcovado in the Osa Peninsula), 54 wildlife refuges, 17 biological and forest reserves, and 12 wetlands.
Though it's impossible to cover it all in a single trip, visiting a few different areas offers an ample introduction to this beautiful country. For our recent family trip, we focused on the Arenal, Monteverde and Manuel Antonio areas.
Arenal
Named for the perfectly cone-shaped volcano that dominates the landscape, the Arenal area is a hub for tourism. The Arenal volcano, which had an infamous eruption in 1968, spewing lava and ash across five square miles, has been dormant since 2010. The town of La Fortuna, where most hotels and activities are centered, sits to the east of Arenal Volcano National Park and serves as a gateway to the park.
Make Nayara Tented Camp, the third and newest property within the Nayara Resorts collection, your base. Comprising 21 sprawling "tented" rooms tucked into the hills with their own plunge pool, patio with hammock, and dramatic views of Arenal volcano in the distance, Nayara Tented Camp feels likes a jungle hideaway. The sleeping configuration, which features one king bed opening onto the patio and pool and two daybeds on the perimeter of the room, makes it a great option for families with younger children. For our own kids, the private, hot spring-fed pool was a favorite. Watching birds flit by from our patio, including an orange and green-hued Rufus Motmot that landed within inches of us, was the highlight for my husband.
All three Nayara properties — the original Nayara Gardens, the adult-only Nayara Springs and the newer Nayara Tented Camp — are interconnected. All guests have access to seven spring-fed thermal pools, set to varying temperatures, which tempt you to dip your toes in and determine, like Goldilocks, if they're too hot, too cold or just right. After much deliberation, our family found that a 98-degree pool, with Costa Rica's signature afternoon showers drizzling down, was the perfect combination.
By day two, we found our rhythm. Start with the impressive breakfast spread, including tropical fruits such as pineapple, watermelon, mango and even rambutan — a reddish-pink fruit with a hairy exterior that's peeled to reveal a lycheelike flesh — as well as plenty of pastries and breads, and a hot counter with beans, rice, pancakes and eggs made to order. Don't miss the fresh coconut water served in the husk. Follow with a half-day excursion and return in time to luxuriate in the thermal pools. Finish with dinner at one of Nayara's restaurants such as Asia Luna, where our kids devoured their weight in avocado-cucumber rolls, noodles and garlicky broccoli.
As for excursions, the Arenal area boasts all manner of adventures, from hiking in the shadow of the volcano and whitewater rafting down class II, III or IV rapids to traipsing across hanging bridges in the understory of the rainforest to spot monkeys, sloths and birds and zip-lining through the rainforest for a bit of an adrenaline rush. Even with four days in Arenal, we barely scratched the surface of Nayara's 23-page excursion book.
Our visit to the Mistic Hanging Bridges with Andre, an on-site naturalist at Nayara, was especially memorable. With a trained eye and deep knowledge of Costa Rica's plants and wildlife, Andre managed to help us catch glimpses of howler monkeys, toucans, poison dart frogs, hummingbirds, bats and even hundreds of leaf-cutter ants as they worked tirelessly to carry leaf bits back to their colonies. Andre helped us understand the relationships between the plants and mammals, amphibians, birds and insects that call the rainforest home — a fragile balance that makes you appreciate the wonder and beauty of Mother Nature all the more.
For some more perspective, there's nothing quite like zip-lining through the rainforest.
For some more perspective, there's nothing quite like zip-lining through the rainforest. Sky Trek is the premier zip-lining outfitter in the area, with locations in Monteverde and now Guanacaste as well. From a harness fitting and safety demonstration to a gondola ride up the mountain to begin the seven-cable circuit, the experience is seamless. Our kids, who had never zip-lined before, were nervous at first, but soon the thrill of whizzing through the canyons won them over. The highest cable elevates you some 656 feet for panoramic views of the emerald green treetops and Arenal volcano in the distance, while the longest cable runs nearly half a mile. For a few of the cables, our 7-year-old son rode tandem with a guide.
Monteverde Cloud Forest
Arriving to Monteverde from Arenal is an adventure in itself. Driving the distance around Lake Arenal and up through the mountains would make for a long and tiring journey (the lake, which is actually a man-made reservoir, measures 32 square miles). So instead, we took an open-air taxi boat across Lake Arenal in 30 to 40 minutes, passing egrets and cranes along the way. Then, a passenger van and driver met us and climbed the 3,000-plus feet to reach Monteverde, with the mist beginning to shroud the view. Monteverde, which appropriately translates to Green Mountain, sits along the Continental Divide at 4,662 feet. The dramatic change in altitude means a different climate, as well as different animals and birds that prefer the cool mountain air.
Cloud forests are rare forests within tropical or subtropical mountainous regions where the conditions allow for continuous cloud cover, as if the sky has come down to the forest. These low-hanging clouds, much like a fog, hover about the upper canopy of the forest before condensing onto leaves and then trickling down to plants below. The ever-present moisture promotes incredible biodiversity, like epiphytes, nonparasitic plants such as lichens, orchids, and bromeliads that grow on other plants. Not to mention the hundreds of species of mammals, birds, amphibians and reptiles that all call the cloud forest home.
While in Monteverde, we visited the Monteverde Cloud Forest Biological Reserve. Established in 1972, this protected reserve covers a massive 35,000 acres, though the few marked trails within a portion of the reserve take visitors two to three hours to walk. The Monteverde Cloud Forest Biological Reserve is one of the few remaining habitats in Costa Rica supporting all six species of the cat family: jaguars, ocelots, pumas, oncillas, margays, and jaguarundi. It is also known to be a home to the resplendent quetzal, a stunning iridescent-green bird with a bright-red breast that feeds on wild avocado trees from February through July. Though our guide identified the bird's nesting trees, we were not able to catch a glimpse. Still, the feeling of walking through a cloud was plenty magical and serene.
Requiring a combination of timing and luck, as well as help from a trained guide, wildlife spotting in Costa Rica is sometimes best when you're not looking. We actually managed to observe more wildlife near our room at Senda Monteverde, a sustainability-minded 24-room ecolodge, than we did at the reserve. One morning before breakfast, we encountered a pack of 50 or more white-nosed coati, a relative of the raccoon, scampering across the hotel grounds. A tall tree in the parking lot seemed to be the favorite perch of several green parrots and Keel-billed toucans. The hotel abuts the Aguti Natural Preserve, which is free for hotel guests to walk through and explore, where our daughter spotted capybaras, and my bird-loving husband followed the flight of hummingbirds through our binoculars. A dazzling blue-crowned Motmot bird, perched on a branch as we exited the reserve, left me in awe of its colors and pensive gaze.
Manuel Antonio
The bustling beach town of Manuel Antonio, the third and final stop of our Costa Rica itinerary, rounded out our time in the jungle and mountains with a bit of sun and sand.
Off of Costa Rica's central Pacific Coast, in the Puntarenas province, Manuel Antonio is best known for the national park that shares its name. In fact, weeks before our trip, our daughter and son had watched Barack Obama's Netflix documentary series, Our Great National Parks, which includes Manuel Antonio.
Upon arriving into town, we settled into the 37-room Arenas del Mar, the only property in the area with direct beach access. The hotel sits on 11 acres, 75% of which is untouched and protected, acting as an ecological extension of Manuel Antonio National Park. This is why it's not uncommon to see white-faced capuchin monkeys scampering about on balconies and in trees or lizards parked in patches of sun by the restaurant and pool. Almost all rooms feature ocean views and are well configured with connecting rooms for families. Our kids loved the complimentary minibar, in particular, with plantain chips, cacao powder-covered almonds and local juices (in glass bottles rather than plastic).
With the beach at your feet, surfing and sand play are within minutes. The property offers surf lessons from on-site instructors for all levels. We also walked the grounds in the evening with Mauricio, one of the hotel's own guides, who pointed out half a dozen two-toed sloths, frogs, snakes and crabs scuttling along on the sand. The cover of night brings out nocturnal creatures for a unique perspective on Costa Rica's wildlife.
Midway through the hike, you reach the beach, where dozens of visitors swap hiking pants for bathing suits and wade in the warm water.
Undeniably, our guided hike through Manuel Antonio National Park, also with Mauricio, was the highlight of our time in the region. Even before entering the park, Mauricio had our driver safely pull over when he spotted squirrel monkeys and their young scurrying up tree branches. This exhilarating encounter set the tone for the rest of our half-day excursion, with sightings of howler monkeys, three-toed sloths, blue morpho butterflies and a basilisk lizard to come. Midway through the hike, you reach the beach, where dozens of visitors swap hiking pants for bathing suits and wade in the warm water. The hike continues back around a bend where fearless, white-faced capuchin monkeys, who clearly were habituated to humans, grabbed for backpacks and handbags. It's important to note that feeding wildlife is strictly prohibited.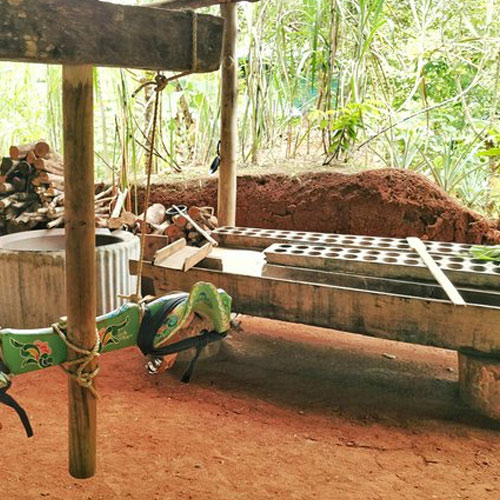 We made it back to Arenas del Mar in time for vegetable quesadillas, guacamole and cocktails by the pool. Arenas and its sister property, Senda Monteverde, where we stayed a few days prior, are both part of the Costa Rica-based Cayuga Collection, which comprises eight hotels in Central America. A core value of the hospitality company is sustainability, and Arenas is more than living by, if not exceeding, those ecominded tourism practices. Solar panels to heat water at the property and composting organic food waste are just the start. A Dock to Dish program works with local fisherman to ensure fresh, sustainably caught seafood. Room furnishings are built from reclaimed wood at a workshop on the hotel grounds (this was perhaps the first hotel I stayed at that could claim its furniture was crafted on-site). Wastewater is treated and purified and then used for irrigation. It was more than evident that Arenas is committed to conservation and community.
The sweet finish to our Costa Rica trip, a visit to a nearby cacao farm and medicinal plant garden, arranged by Arenas, engaged us for more than two hours as we cracked open and tasted a ripe cacao pod and learned how chocolate was made. I was even able to squeeze fresh sugarcane juice, a staple from my childhood in India, using a trapiche, a manual sugarcane mill. Of course, we left with several edible souvenirs (for the plane ride home, our kids pleaded) and memories to last a lifetime.
---
Enjoyed this? You might also enjoy these articles from the fall edition of Invited magazine:
Your playbook for a perfect weekend in this charming North Carolina town
---
Advertising