It should come as no surprise that France is one of the most visited countries in the world. It is a destination begging to be explored, filled with glamorous cities, charming villages and copious amounts of fine French wine and cheese. This diverse nation has 18 different regions to discover, each with its own unique highlights. So whether you're paying your first visit to France or your 10th, take the guesswork out of planning your next trip to France by booking a luxury river cruise.
Allowing you to visit multiple destinations in a short amount of time, sailing on a small floating boutique hotel is an elegant, hassle-free way to see the country. You'll board the ship, unpack once and then comfortably unwind as you cruise from one destination to the next. You can visit an entire region in one week without the burden of having to move hotels or arrange transportation between cities. Plus, most food, beverages and excursions are included in the fare, so there is no worry about going over budget. There really is no easier way to experience and discover all that France has to offer with your spouse, family or a group of friends.
You can visit an entire region in one week without the burden of having to move hotels.
From the City of Light to the vineyards of Bordeaux, any of these stress-free, luxury river cruises will make it easy for you to explore one of the world's most beautiful and romantic countries.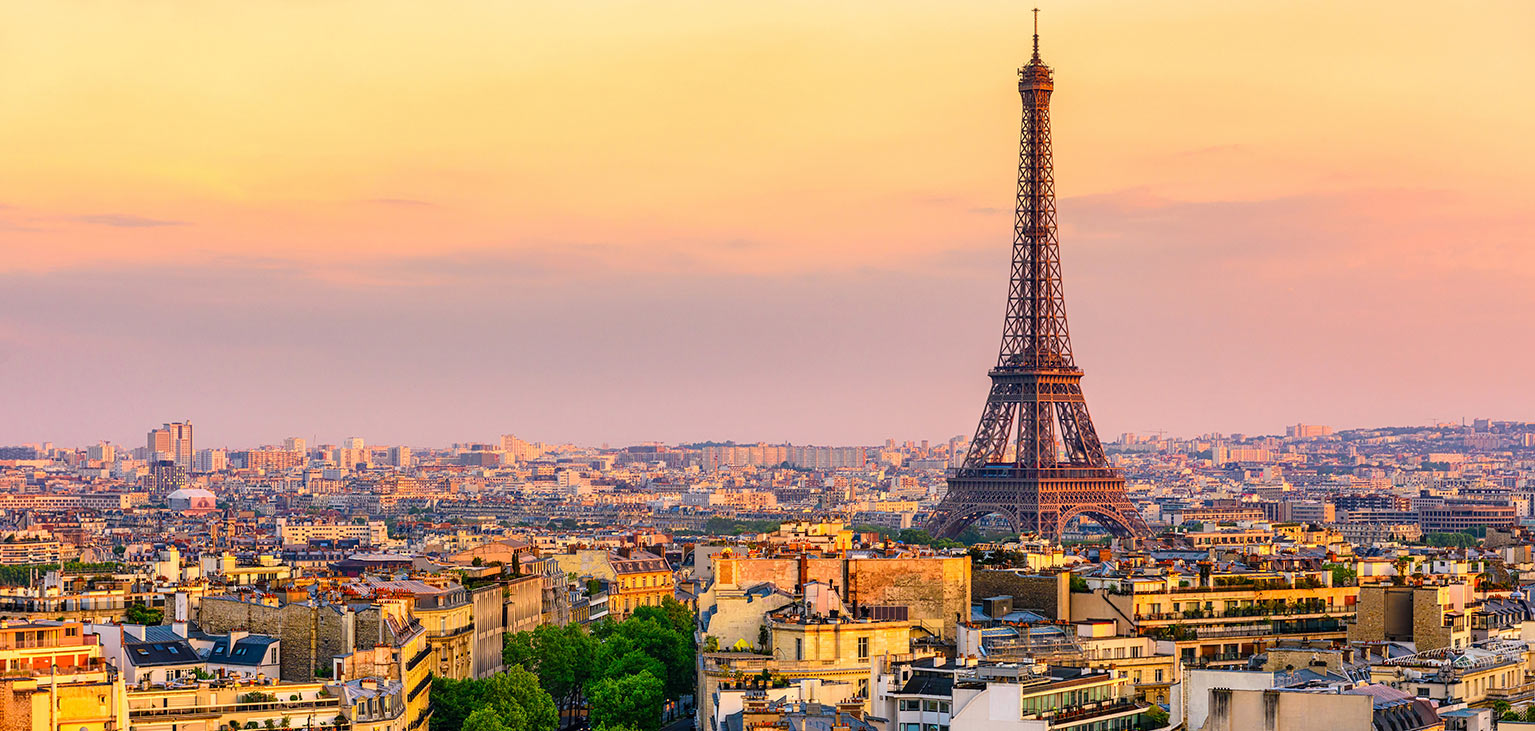 Scenic River Cruises
Nothing could be more iconic than cruising out of Paris with the Eiffel Tower as your backdrop. So say "au revoir" to the city's glittering lights as you set sail on the spectacular 124-guest Scenic Gem. Once outside Paris, you can look forward to a tranquil cruise to Honfleur, the Gateway to the English Channel, and exploring magnificent châteaus and quaint seaside towns along the way.
This eight-day itinerary is brimming with charm and steeped in history. Custom-built specifically to cruise the Seine, the Gem goes all the way into Honfleur and docks right in the center of the city. Once there, you'll have the opportunity to visit the historic Normandy beaches — the site of the D-Day landings and memorials for those fallen in World War II. On the return trip, excursions bring you to Monet's Garden in Giverny and, once back in Paris, shopping with a chef at a local food market, plus a walk through the trendy Marais district. For independent exploration, guests can use the Scenic Tailormade app to enrich their experience with point-to-point navigation and commentary about each destination.
While onboard the Scenic Gem, you'll enjoy diverse dining options, including L'Amour, a fine-dining restaurant with French cuisine. Balcony suites on the ship's 5-star Space-Ships feature the Scenic Sun Lounge system. With the touch of a button, the cabin window is lowered, transforming your cabin into a full-length, open-air balcony, thus bringing you that much closer to the French countryside.
From the moment you board, you'll know why cruising with Scenic is different. All of the luxuries you would expect to pay extra for are part of Scenic's all-inclusive luxury program, making Scenic river cruising one of the best experiences in small-ship cruising. From transfers and tips to unforgettable excursions, e-bikes and free-flowing champagne, it's all covered in the cruise price. Plus, your personal butler will ensure your time on the Gem is stress-free and relaxing. So, whether you'd like something ironed, need your laundry done or prefer chardonnay rather than sauvignon blanc, your butler is dedicated to tailoring your cruise to you with a commitment to excellent service.
---
AmaWaterways
From the Rhône Valley to Provence, savor the sights and flavors of France on AmaWaterways' Colors of Provence itinerary. The cruise begins in Lyon, France's gastronomic capital and third-largest city, an excellent choice for gourmands and connoisseurs of history, art and culture. It is home to 21 Michelin-starred restaurants and several markets, including the famed Les Halles de Lyon Paul Bocuse. Then, you will continue your journey heading south toward the Beaujolais wine region and onward to see the historic sites in Tournon and Tarascon, ending in Avignon, the "City of Popes."
Family-owned and operated for almost 20 years, AmaWaterways offers an unrivaled river-cruise experience. You'll sail down the Rhône on the AmaKristina, a 156-passenger floating boutique hotel with the most welcoming and attentive crew. The ship's modern, light-filled, twin-balcony staterooms have French and outside balconies (a feature unique to AmaWaterways) and marble bathrooms with multijet showers. When not relaxing in your cabin, head up to the sun deck to take a dip in the heated outdoor swimming pool with a swim-up bar or relax on a lounger in the shade, watching the world go by.
Staying active is a core component of an AmaWaterways cruise. Their Wellness Program includes morning stretches, cardio/core strengthening, jogging, yoga, resistance-band workouts and circuit training. Each day, there are a variety of included walking, hiking, biking, culinary or cultural excursions designed for all levels of abilities. Active adventure choices include a hike through the vineyards of Tain l'Hermitage or a bike tour along the Rhône river, while those who want something less strenuous might opt for a guided walking tour to visit the Roman ruins of Arles. Regardless of how you choose to experience the region, AmaWaterways' guides help you immerse yourself in France's culture.
The wellness program carries over into the dining room as well. Menus always include healthy choice recommendations. Aside from eating in the main restaurant, make a reservation for the Chef's Table, which is offered by reservation twice during a weeklong cruise in a smaller dining room with an open kitchen. Additionally, one night you will be treated to a special meal in which a La Chaîne des Rôtisseurs dinner is served. All AmaWaterways European ships are members of this prestigious international culinary society.
---
Uniworld Boutique River Cruises
Uniworld's eight-day Brilliant Bordeauxitinerary is the perfect choice for food and wine lovers, highlighting the country's breathtaking backdrops, wines and cultural treasures across the region in Fort Médoc, Cadillac, Blaye and Libourne. Woven throughout the itinerary are dining excursions offshore, where guests can dine out at local restaurants and take in the beautiful surroundings of the Bordeaux region.
You'll be sailing on the 124-passenger S.S. Bon Voyage, one of Uniworld's newest Super Ships. Designed to immerse guests in French culture and art, this floating boutique hotel is one of the most luxurious in Uniworld's fleet. Relax in your uniquely designed suite (no two are alike within the entire fleet), which comes with an ultraluxurious bed by Savoir Beds of England, an all-marble bathroom with double vanities and butler service. Get ready to be wowed by Uniworld's staff, who strive to exceed guests' expectations with their keen attention to detail.
Stylishly designed dining venues on the S.S. Bon Voyage evoke the essence of France. A palette of a rich blue, emerald green and pops of yellow permeate the décor and are complemented with French-style furnishings and artwork. La Brasserie, Le Grand Fromage and La Cave de Vins — the stunning private dining and wine tasting room adjacent to the main restaurant — all serve world-class cuisine. Uniworld's chefs draw inspiration for their farm-to-table dishes from the renowned wine and gastronomic expertise of the Bordeaux. Even Le Café du Soleil (adjacent to the infinity pool on the top deck) serves casual French cuisine.
Travelers can explore the world of gourmet French cuisine with Uniworld's Connoisseur Collection Program on select sailings, which features an assortment of culinary-inspired excursions and events along with visits to prestigious vineyards, restaurants, museums and culinary hot spots. Excursions include a walking tour and wine tasting at Saint-Emilion, a key wine town in Bordeaux; exploring Libourne's local farmers market to choose the freshest vegetables, fruits and cheeses; an artisanal wine tasting at Château de Cazeneuve; and a bike ride tour through the lush Médoc vineyards.
---
Barge Lady Cruises
Barge cruising is one of the most intimate, leisurely and luxurious ways to see the French countryside. Unlike larger river cruise ships, luxury hotel barges can only accommodate from two to 24 passengers, and they sail on small canals in the interior of the country. These voyages include a private chef, excursions, food and wine, and ground transportation. With the exception of gratuities, everything is included. Itineraries take place in rural areas, providing authenticity and total immersion in a region.
Discover the Upper Loire Valley region between Léré and Montbouy on the six-passenger Barge Meanderer. There are three staterooms, each with its own bathroom, and several shared spaces, including the main saloon with a full bar, the dining area with a single table and a teak sun deck with a hot tub. With a crew of five, the guest-to-staff ratio is almost one-to-one. Your English-speaking Captain Declan is your guide for the week. He is quite the historian, as well as personable and extremely entertaining. Chef John prepares gourmet French cuisine for all three meals, including a fabulous four-course dinner every evening. Along with the pilot and two hostesses, the crew makes you feel like the Meanderer is your home for the week.
Daily excursions on the Meanderer take you to prominent historical landmarks in the Loire Valley, such as the Palace of Fontainebleau, once home to French royalty and Napolean Bonaparte, and to smaller off-the-beaten-path places like the Faiencerie de Gien, where they have been producing fine china since 1821. Additionally, you will go wine tasting in Sancerre, visit châteaux and have the opportunity to shop in several small villages and towns. And since it's just you and your fellow passengers on these outings, every day it feels like you are on a private tour.
One of the best parts about Barge cruising is the opportunity to hop off and get some exercise every day. As Meanderer floats slowly along the Canal de Briare, just a few feet from the bank, you are welcome to disembark and walk or use their bikes to ride along the towpath.
Extending Your Stay in France
Coquillade Provence Resort & Spa
If you wish to prolong your trip in France, a stay at Coquillade Provence Resort & Spa is the perfect complement to any French river cruise. Less than an hour by car from Avignon, this Relais & Châteaux property sits on a 100-acre estate surrounded by sprawling vineyards, olive groves and fields of lavender.
Embodying a charming Provençal retreat, this restored 11th-century hamlet has 63 spacious rooms and suites, plus a six-bedroom villa, each with a terrace or balcony. The Aureto vineyards surrounding Coquillade produce fabulous wines, including rosés that can be sampled at their restaurants and bars. They pair well with the farm-fresh menu items that showcase seasonal produce from the hotel's edible garden.
This unique property is also a sports destination. There are two pools, tennis and bocce courts, and a renowned cycling center that rents high-end racing bikes, mountain bikes, road bikes and electric bikes. Perfectly positioned in one of France's most incredible cycling spots, Coquillade's central location in Provence allows guests to ride the most beautiful routes and discover all that the region has to offer. Whether you are looking to relax in their award-winning luxury spa or stay in shape, Coquillade has it all on property.
---
Enjoyed this? You might also enjoy these articles from the summer edition of Invited magazine:
Explore Los Angeles with this perfect long-weekend itinerary
---
Advertising